Address: 500 W. Vine St., Fleetwood, PA 19522
Phone: 610-944-7814
E-mail: fleetwoodpool@yahoo.com
Like us on Facebook: "Friends of Fleetwood Pool"
2023 Pool Information:
"Members-Only" time 11:00am-1:00pm (daily admission guests are permitted during these times ONLY when entering with a member)
At 1:00pm, daily admission passes will be sold (we do reserve the right to suspend daily admission ticket sales if the pool is near or at capacity)
The "lap area/diving well" will be closed from 11:00am-12:00pm Monday through Friday and from 6:00-7:30pm on Tuesday and Thursday during swim team season (June-July)
Additional info on the pool including new chairs, the water slide which had to be removed, and other updates are available here: Click here for important updates! (PDF)
2023 Schedule
Opening weekend: May 27-29, 2023
Closed: May 30 – June 2
Open daily beginning June 3
---
2023 Membership Rates: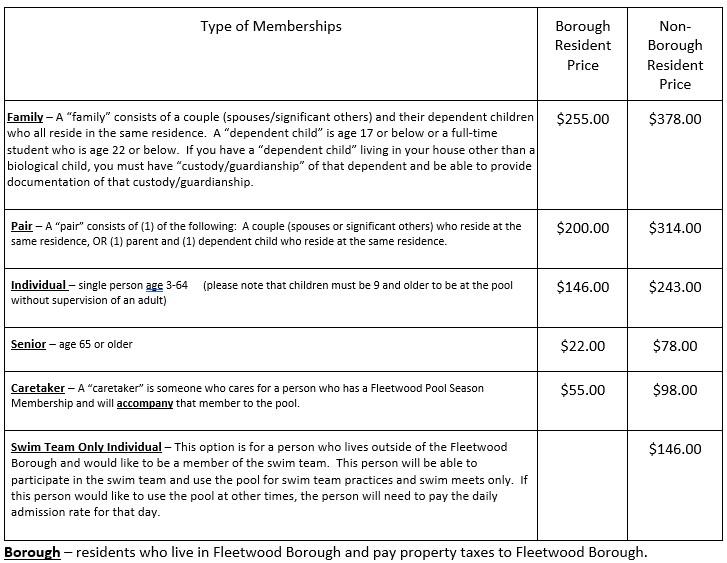 The following street names are in Fleetwood Borough: Almond Alley, Apple Alley, Arch, Ash, Beech, Bird, Brookfield, Burr Alley, Buttonwood, Cambridge, Cardinal, Cedar, Chestnut, Clover Alley, Cotton, Depot Alley, Doe, Dogwood, Elm, Evergreen, Fieldcrest, Fir, Fleetwood, Forest, Foundry Alley, Franklin, Friendship, Green, Greenway, Heritage, Hickory, Hickory Alley, Hoffman Alley, Jackson, Laurel, Liberty Alley, Linden, Locust, Lumber Alley, Magnolia, Main, Madeira Alley, Maple, Moss Alley, Mulberry Alley, Myrtle, New Alley, Oak, Park Alley, Pearl Alley, Pine, Plum Alley, Poplar, Quince Alley, Race, Richmond, Rose, Salem, School Alley, Shell Alley, Somerset, Spring, Springfield, Spruce, Stone Alley, Vine, Walnut, Walnuttown Rd., Washington, Westfield, Willow, and Wood Alley.
***There are some streets where certain house numbers ARE IN the borough and other house numbers ARE NOT in the borough. If you reside on one of these streets, refer to who you pay your property taxes to…Fleetwood Borough or a different township.
Non-Borough – residents who live outside of Fleetwood Borough and pay property taxes to other entities.
***Please note – we are offering Guests passes this season. If you purchase your membership, by Monday, May 15, 2023, you will receive complimentary guest passes (Family membership – 3 guest passes, Pair membership – 2 guest passes, Individual/Senior membership – 1 guest pass). You can purchase up to (5) additional guest passes ($7.00 each guest pass).
At this time, season memberships can only be purchased ON-LINE. The following link will take you to a secure credit card processing site: Click HERE to visit the site.
Daily Admission Rates
$10.00 per person – for a resident of the Fleetwood Area School District
$15.00 per person – for a resident outside of the Fleetwood Area School District
***We reserve the right to ask for proof of residency.
Swim Team
We are pleased to announce that the Fleetwood Topton Swim Team – The Wave will be returning for the 2023 season. Check out their Facebook Page: Fleetwood Topton Swim for information about the team. In order to be a part of the swim team, you must have a season membership to the pool.
Concession Stand
We are also pleased to announce that Fleetwood Topton Swim will also be running the concession stand again this year. Stay tuned for information about their hours closer to the beginning of the season.

---
Pool Rules
2023 Pool Rules (PDF)
---
Private Parties
Private Pool Party Information (PDF)
---
Swim Lessons
Swim lessons will be offered at the pool this summer.  Details below.
Swim Lessons – Group (PDF)
Swim Lessons – Private (PDF)
Questions???
If you have any questions, please send an e-mail to fleetwoodpool@yahoo.com or call the pool at 610-944-7814 and leave a message on the answering machine. Your phone call will be returned within 1 week.